Wow, just, wow. The weekend started out great with a full 2 hours of track time Saturday, bring the lap times down and getting ready for the seriousness of the weekend. Rain in one session meant I had some quality time in car learning how the thing handled, throwing it into drifts and slides around the corners, and investigating the way it understeered or oversteered depending on the throttle.
Sunday morning was met with blue skies and balmy 16* weather, and a long free practice meant hot hot temps in the car, getting on for 40*+. Lots of water of course, hydration is very important, and I got ready to deal with the heat. That morning I had put on my new MOMO racing suit, and my god, the difference in comfort levels between it and my old Alpinestars suit was immense. I'm honestly hand on heart not saying this for any other reason other than it's true, but the MOMO line of gear is ridiculously immensely comfortable! In the car I noticed that the MOMO gear got rid of heat really well, and seemed to keep me a lot cooler, even though it was hotter than the last race. The suit, boots, and gloves are the most comfortable pieces of racing gear I've ever worn, or tried, go and check out their site to get your own!
www.momo-uk.co.uk
(©Jakob Ebrey -
Jakobebrey.com
)
I of course used all the time I could during free practice. Lap times stayed consistent, not quite picking up the pace I would have liked, but in during the video I noticed something I hadn't in the car, I was thinking about the money. I was thinking about how on earth I'd fix the car if I smashed into the wall, or got collected by another car... this wasn't good for my speed.
A quick relaxation and focus session later, I was ready for qualifying. Bam, 2 seconds dropped and I was running 1:40s, no more negative thoughts, and I was driving the car as fast as I could figure out how. This put me 13th on the grid, about 2 seconds off 2nd place pace. Between qualifying and race 1, I spent considerable time studying data and looking at my videos to see where my time was, and it all seemed to be in the braking zones for corners, hmm something to work on during the race!
Race 1 was eventful, a slightly slow start for me lead to one or two places dropped, then I got stuck in the traffic heading down the inside of turn 2. Turn 2 is a sharp hairpin left, and when 15 cars are defending or trying to overtake down the inside, it get tight, quick. Lesson learned? Yeah, for race 2 go round the outside! During the rest of lap 1 of race 1, I climbed my way to 10th place, an accidental bit of contact between myself and teammate Jason Kenny left a tyre mark on the side of my car. A very solid race, with lap times almost identical to qualifying, meant I was a happy man at the end of day 1. Another top 10 finish, brilliant!
RACE 1 video
(©Jakob Ebrey -
Jakobebrey.com
)
Monday, day 2 of the event, and boy was it a good one. Early morning warm up, and on the old test tyres used for practice the day before, and magically a solid second had been dropped from my time! Having a clear head, being focused and not thinking about money is the easiest way to drive fast.
Race 2, again, started 13th, this was because in qualifying my fastest and second fastest times were just .15 of a second from each other. It's just as well the new MOMO suit is so comfortable and keeps body temps down, race two was even hotter than race 1, and I had to work even harder. Through turn 2, the hair pin, I stuck the car out wide and used the space to take a number of cars, and pushed my way into the top ten. Gradually working my way through a couple more cars, I picked my way to 5th, ready for a top 5 result! On laps 6, 7, and 8, I put in my fastest race laps of the weekend, 1:40.8, 1:40.4 and 1:40.6 respectively. On lap 8, my front sway bar link snapped, and about a second dropped out of my lap time, two laps and a lot of oversteer later, I lost out and moved into 6th place. I managed to hold onto 6th, over my team mate Thiago Calvet in 7th, for the remaining few laps, and took my best racing result of 2013, a fantastic 6th place!
RACE 2 video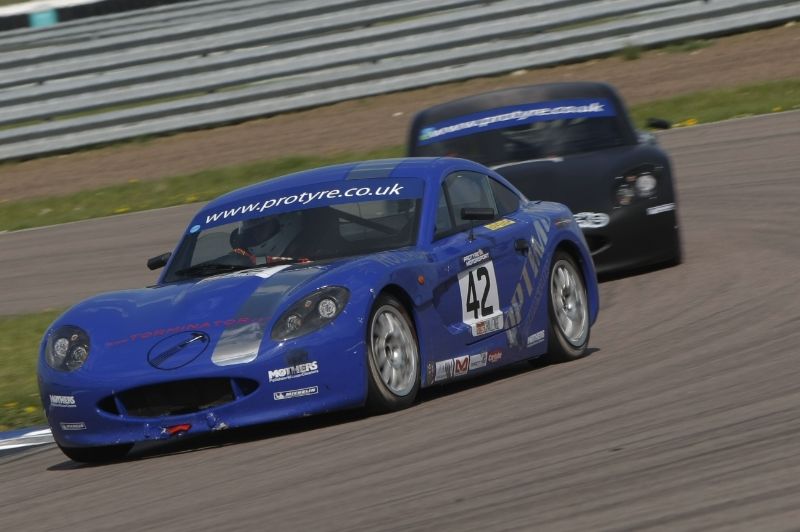 (©Jakob Ebrey -
Jakobebrey.com
)
Race 3 was eventful. It will sound like racing drivers excuses, but I'll tell the story exactly how it happened. Between races 2 and 3, we discovered the front anti roll bar link had broken, but before I knew, I had said we should swap the tyres from front to rear, to counteract the oversteer I was having throughout the last half of race 2 (broken link). Just before heading out of the assembly area, the judicial camera decided not to work, and nearly made me miss the parade lap. However, all this lead to my best start of the weekend, picking up a place through turn 1, and fighting 3 abreast for 3rd going through turn 2, I get pushed very wide onto the grass and have to back off or lose more than just that battle. Through the first lap, I move from 6th into 7th, as I can't get the car to turn on and work for me, something didn't feel the same as race 2, it didn't want to work. Then during lap 2 the shift lights stopped working, and when momentum is everything, and hitting the limiter stops the cars acceleration dead in its tracks does serious damage for straight speed and getting out of corners quickly, it was a huge hit to pace. Throughout the race though I never gave up and tried as many different styles, turn ins, exits, and tricks as I could think of to bring the car back up to pace. I gradually lost places down to 10th, never letting a single one by without a fight though, the car may not be working, but I can make it defend!
I did manage, on the second to last lap of the race, get the pace back to 1:40.4, but by then all it did was make sure that a top 10 finish was in the bag, keeping 11th place at bay for the final lap.
(©Peter - motorsportpete flickr)
With two 10th, and one 6th place finish, pace and potential is showing up in spades, and it's only a matter of time before I'm standing on the steps of the podium. With the solid results from the weekend, I have also jumped into 9th in the championship, just 2 points behind 8th, and just 106 points behind 1st. With 15 races left in the year, anything can happen, and I will be working just as hard to smash my way into the top 5, which is currently occupied by 5 two year + veterans of G40 racing.
The MOMO GT3 BMW Z4 was running well until a mechanical failure took it out of the race.